Italy Is A Beautiful Country! Get a 2 for 1 cooking class and tour at Casa Gregorio, available until December 16. Hurry!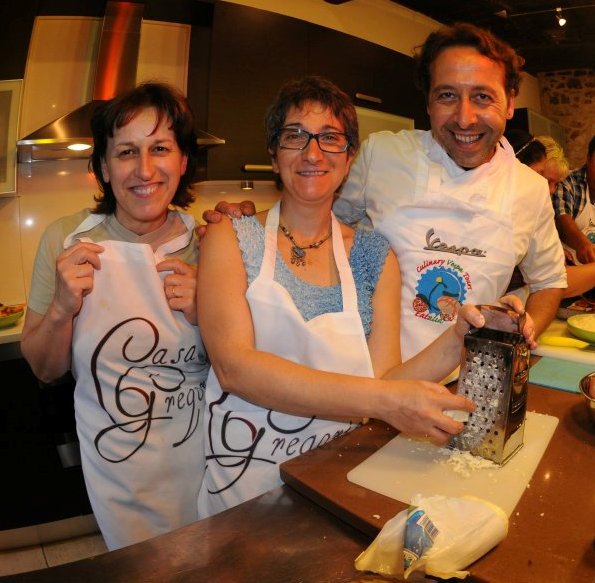 Tags:
Travel Adventures


Day 1 back home and I am really missing my morning Italian cappuccino. Italy has fabulous coffee. In all my time there, I never had a less than excellent cappuccino or coffee (espresso). My first 28 hours there I had a wicked headache from the flight and when asked if I wanted Americano or cappuccino at breakfast, I said Americano. Then I thought, I didn't come to Italy to get what I have at home so from then on, I had cappuccino and espresso (no x in the word), which is called coffee. Cappuccino is the morning drink, after lunch it's espresso, which is called cafe, says our Rome tour guide Dani from Budapest.
I am also missing Anna's cheerful face at Casa Gregorio in Castro dei Volsci, Ciociaria, and her good humor as I sip my morning brew. Anna lives nearby in the village below Castro dei Volsci and she arrived first thing in the morning to set up breakfast for us. We were served wonderful and extensive breakfasts, a North America approach. Italians typically have a cappuccino and an Italian crescent, sometimes filled, pretty much the same as a croissant.
Anna also set up and assisted with our cooking classes in the evening. She is the backbone of Casa Gregorio along with the others, Pasqualina the dough maestro and her daughter Letizia, Stefania the sculptor, Giustino "Justin" who helped us create magnificent, authentic dishes and our driver & sometimes tour guide Patrizio, who picked us up at the airport dressed in a logo chef's jacket, which he tore off as quickly as possible - he is NOT one of the cooks, lol. All done in excellent good humor.
Casa Gegorio in not only a cooking facility, it is also a wonderful inn and b&b. Next year, Gregory will be opening rooms in the building next door, along with a fitness facility. He would like to install a pool but with so much buried history, he may not be able to do enough digging to create said pool. Time will tell. Gregory is a wonderful host. His cheerful demeanor and responsiveness were a gift each and every day. When we arrived, he had a bad cold and dragged himself out of bed to make sure we were well taken care of. We sent him back to bed, assuring him we were all ok and he needed the additional rest.
Right now, until December 16, Gregory is offering a 2 for 1 cooking class and tour. That's the package we got but at a better price and I highly recommend it. What a fabulous Christmas gift that would make. Anyone would be delighted to pull that out of a Christmas stocking on Christmas morning. The offer is redeemable through 2014 so you can buy now and go later. Just do it! He may never make an offer this good again. His business is thriving.