A Food Question For Valentine's Day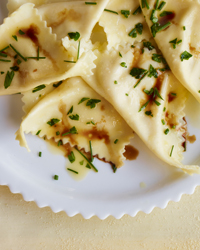 Tags:
Adventures In Cooking


Today being Valentine's Day, we're going to try something special for supper.
Now we are not Italian and we had no mama to teach us how to make pasta and ravioli so we will muddle through this the best we can, though I watched the ladies in Cheeses Around The World on Federal Hill make ravioli by hand. Are we crazy to try this? Wish us luck.
Here's the question: I don't want to drench these in melted butter. I was thinking of a walnut sauce. Do you have any better ideas? Suggestions? Going out is not an option.
Click on the link to read the recipe.