Hummies Are Leaving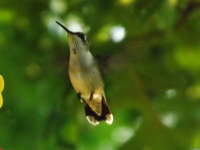 Tags:
The first wave, males, started their journey a couple of weeks ago. Over the weekend the numbers thinned, females. That leaves the juveniles fattening themselves as they ready for their flitght to Brazil for the winter.
There is still some bickering at the feeders, just much less of it. The hummies awre spending a lot of time visiting the flowers, not as much the feeders.
Best guess - I count 5 or 6 hummies, whic probably means double that.