It's Garlic Scape Season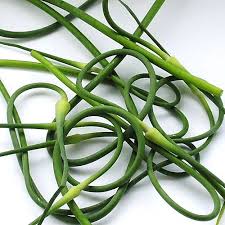 Tags:
Good Eating
Eat Local


Garlic scapes: What they are and five health reasons to eat them
Garlic scapes, the flower stalks that grow from garlic, pack a major nutritional punch. Try them in this healthy green spring dip.
by Julie Daniluk, R.H.N. Published Jun 6, 2011 Updated Nov 1, 2012 2 Julie Daniluk
Garlic scapes are the flower stalks that spring out of the garlic bulb. During the growth period before the garlic flowers appear, the scape begins to curl upward looping into one to three neat coils, like a pig's tail. Spring scapes have a milder flavor without the hot garlic bite. More delicate than the root, they can be enjoyed raw in salads, dips and stir-frys.
The scapes can be cut before harvesting the more familiar garlic bulb and sold in the market tied in bundles that look very similar to green onions. They are considered a delicacy, as you will only find them in the early summer, before the stocks get too wooden for harvesting.
Garlic scapes pack a major nutritional punch for a mere 30 calories per 100 grams. They are high in fibre and contain good amounts of vitamin C and pro-vitamin A, which protects your skin and lungs.
Five more reasons to search for scapes
1. They may increase oxygen levels in the blood: When people suffer from many diseases, including liver disease, the body releases compounds that can interfere with the amount of oxygen available in the blood. There are components of garlic, as well as its scapes, which may help to reoxygenate the blood and maintain healthy tissues and organs.
2. They could protect against osteoarthritis: Garlic scapes contain many allium compounds also found in the bulbs of garlic plants. These compounds may inhibit the enzymes in the body that are responsible for breaking down the bone tissue. As we age, this becomes increasingly important for the prevention of fractures and osteoarthritis.
3. They are high in antioxidants: The sulphur compounds in garlic scapes boost glutathione, the body's most powerful antioxidant. This can protect the cells of the body against outside causes of illness from bacteria or viruses, as well as internal causes of damage including stress.
4. They may have anti-cancer properties: Diallyl sulphide is one of the many sulphur compounds found in the scapes of garlic. This sulphur compound in garlic has been shown in lab studies to cause programmed cell death (apoptosis) in non-small cell lung cancer cells.
5. They can protect the liver and kidney against oxidative stress: The volatile oil found in garlic and their scapes not only gives them their distinct flavour, but could protect the liver and kidneys from oxidative stress, which occurs during normal metabolic functions as well as when the body is being insulted by environmental toxins. No matter what the source of the oxidative stress is, our liver and kidneys end up bearing the brunt of the damage, so give your organs a break with some garlic scapes!
Summer e-scape skinny dip
This is a vampire-fighting green dip that makes a perfect dip for patio meals. The sweet green peas come alive with the addition of the spicy scapes.
Skinny Dip
3 cups green peas, fresh or thawed
1 tbsp yellow mustard
2 tbsp extra virgin olive oil 
1/4 cup lemon juice
1 cup garlic scapes, chopped
1/4 tsp sea salt
1/2 cup water
2 tbsp hemp seed (optional)
Combine all ingredients in a food processor. Process until smooth. Serve with fresh veggies.
Makes three cups
Nutritionist Julie Daniluk hosts Healthy Gourmet, a reality cooking show that looks at the ongoing battle between taste and nutrition. Her soon-to-be-published first book, Meals That Heal Inflammation, advises on allergy-free foods that both taste great and assist the body in the healing process.
For more amazing recipes visit Chatelaine.com's recipe section. (Thank you, Len Vassalo, for sharing this post from Chatelaine.)