Dal With Rice - Inexpensive, Easy and Uses What's On Hand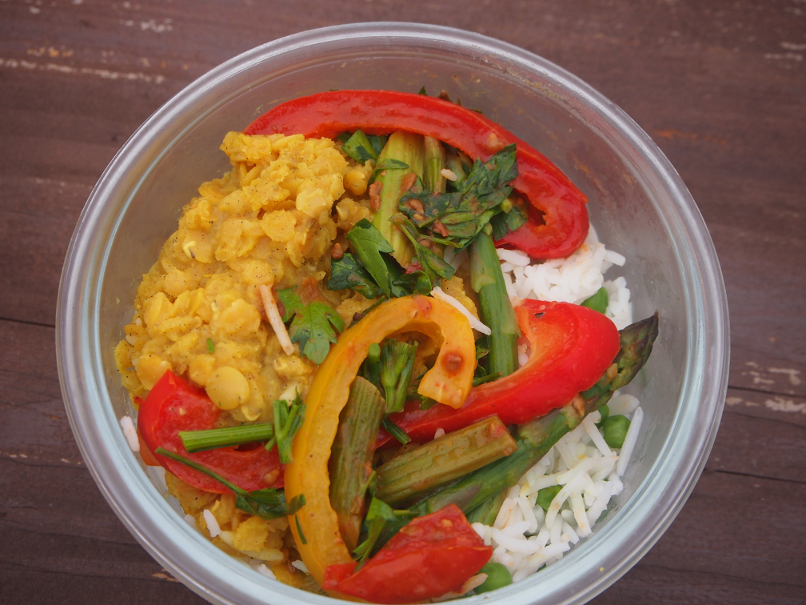 Tags:
Food & Health
Economy
Vegetarian
Vegan


I haven't posted a recipe in a long time. It's time I put something in to help get us through the pandemic. I hope you enjoy it.
With the pandemic circulating, we go to the grocery store far less frequently than we used to. That means we have to be sure to use up all the fresh groceries in the house before the next grocery trip. Plus, with far less money coming into the household, it's important to use groceries most frugally. Being this frugal with both food and money has forced us to find ways to use what we have more efficiently.
This is a very economical dish. Use whatever ingredients you have on hand, it will still work. Use any whole grains in your pantry - green lentils, Beluga lentils, brown rice, long grain rice, bulgur, groats, barley or polenta (corn meal poridge). It makes a great lunch the next day so make plenty.
Every time I make this, it is a little different, depending on what I have on hand at the moment.
Last night I served it with sauteed red pepper, asparagus and cherry tomatoes. Then I sprinkled it with parsley that is attempting to bolt, though it would be more authentic with cilantro, which I do not have in the garden yet. Mint might work, give it a try.
I used plain basmati rice with a handful of frozen peas stirred in. You don't need to use the accompanying rice recipe, that can be a stand-alone. As a matter of fact, I prefer the rice plain or with a simple addition like peas, raisins or a cinnamon stick. Basmati rice has plenty of aroma and flavour on its own.
Dal With Plain Pilau (Vegetarian Epicure Book 2 by Anna Thomas)
Dal Serves 4 to 6
1 cup red lentils
2 cup water
1 tsp salt
2 tbsp peeled and grated fresh ginger
1/4 tsp turmeric
4 pods cardamom, can use ground
1/4 tsp cayenne pepper
2 1/2 tbsp butter
1/2 tsp red pepper, crushed & dried
2 tsp cumin, ground or whole
2 tbsp fresh cilantro leaves, optional. Parsley is a good substitute.
Melt butter in a medium saucepan. Add all the spices except fresh herbs, sautee and add the lentils, salt and water.
Bring to a boil and lower the heat; simmer until soft.
Add more water if needed.
Add a squeeze of lemon juice if you have it.
~~~~~~~~~~~~~~~~~~~~~~~~~~~~~~~~~~~~~~~~~~~~~~~~~~~~~~~~~~~~~~~~~~~~~~~~~~~~~~~~~~~~~~~~~~~~~~~~~~~~~~~~~~~~~~~~~~~~~~~~~~~~~~~~~~~~~~~~~~~~~~~~~~~~~~~~~~~`
Plain Pilau Serves 6 - 8
4 tbsp butter
2 cups basmati or long grain white rice Whatever kid of rice you have is good.
1/4 tsp cinnamon
8 pods cardamom, crushed
3/4 cup almonds, slivered & blanched
1/2 cup raisins
1 cup peas
4 cup hot water
1 1/2 tsp salt
Melt the butter in a large pan and fry the rice until it just starts to colour. Add the cinnamon and crushed cardamom seeds. Stir and continue frying for 1 or 2 minutes.
Add the remaining ingredients and stir briefly. Bring the water to a boil, then lower heat, cover the casserole tightly and let the rice steam for 20 minutes. All the water should be absorbed and the rice just tender but not mushy.